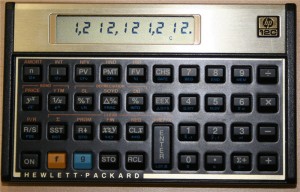 Going through the CFA program is a lot like joining a club. All clubs have social norms and common practices among its members.
CFA charterholders and CFA candidates are no different. If you are new to the CFA club, it's high time you learned how the club works and how to walk and talk like a CFA.*
In a bit of a break from the more serious 2,000 word articles, I thought I'd mix things up and take a more lighthearted look at some things CFA charterholders and candidates can't live without and some things they probably should live without.
Let's begin with the absolute, number one favorite thing for all finance geeks …
Favorite Electronic Device: The HP-12C
Apple is awesome. I'm typing this article on my Macbook and I sleep with my iPhone and iPad under my pillow (slight exaggeration). But there is one device that even Apple can't touch.
The HP-12C calculator is the one device no one in the CFA club should be without.
What about the TI business calculator and the basic HP business calculator? Trash 'em. Those other calculators look just like any other calculator. They lack the classic style and status of the 12C.
For example, I was just at a conference where I met with management teams of the companies we cover. There wasn't a single CFO who didn't have a HP-12C nearby.
Don't know reverse Polish notation? You will learn it. In fact, I don't know how NOT to use RPN anymore (another slight exaggeration).
My retired father has one of the original HP-12Cs from the early 1980s. No joke. My 12C is approaching 15 years old. When HP introduced the HP-12C Platinum, there was a run on the old 12Cs because people thought they were getting rid of the original.
No Platinum, no TI … stick with the classic HP-12C.
Have an iPhone? There's an app for that.
Excel Hacks
Microsoft Excel is the analyst's tool of the trade. Most of your days will be consumed by financial models and other analyses in Excel.
With all this time spent using Excel, you are constantly on the lookout for new Excel tips and tricks. Analysts will brag about the models they've created and the Excel hacks that created them.
In our office, I have a dynamic charting sheet that has become almost a legend. It uses a generous amount named ranges and a dash of the OFFSET function. It's simply awesome.
How did I do it?
I have to freaking clue. I had a Will Ferrell at the debate in Old School moment where I temporarily blacked out and produced pure brilliance. It was my one experience with greatness. I hope you can one day experience that Excel zone.
If you need help getting started in Excel, check out my colleagues over at Breaking into Wall Street today.
*Not Using CFA as a Noun
CFA candidates probably caught my error in the use of the CFA designation in the opening paragraphs and the title. You can never, ever, ever, under any circumstances, use the CFA designation as a noun.
The CFA Institute will smite you if you use the CFA as a noun. They are serious.
Hopefully they will forgive me for this article as I was just illustrating a point.
MBA vs. CFA
Do you really have to ask the MBA vs. CFA question again? They are not mutually exclusive.
Taking the CFA Exam in a Suit
During every CFA exam I took I saw at least one person wearing a suit to the exam.
Dude, why?
Don't be that guy. You are not going to a job interview. You are taking an all day exam that will rip your face off and make you want to drink heavy amounts of alcohol. It's OK if you show up in jeans.
As a side note, just remember this simple rule of thumb on Wall Street: If you have to wear a suit to work every day, it means you are on the sell side.
Models and Bottles
Let's save the models and bottles talk for the over-the-top investment bankers.
Saying You Are "Short" Something You Don't Like
I am "short" any calculator other than the 12C. I am "short" people who wear suits to the CFA exam. I am "short" skinny jeans.
I get the "short" references. It's all part of the macho bravado of Wall Street speak. I don't know exactly when it started, but it's been around a long time and will likely be here for a long time to come.
It's OK to use the "short" phrase once in a while, but please use it sparingly.
Your Turn
What did I miss? What are your favorite things that CFAs like (or don't like)?