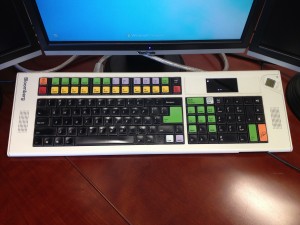 A while back I came across something in Bloomberg called the BAT, i.e., the Bloomberg Aptitude Test, which allows Wall Street job-seeking candidates to showcase their financial skills and get their names in front of more employers.
At the time I thought, "Hey, I should investigate that for my LBS readers."
But then summer arrived, the golf course called my name, and I forgot all about it. Lucky for me and for you, an LBS reader who was working social media for Bloomberg contacted me about doing a guest article on the BAT.
But before I introduce our guest, let me tell you a little bit about Bloomberg.
Besides Excel, Bloomberg is probably the most important tool on Wall Street. It is a never-ending warehouse of financial information: stock prices, stock charts, stock news, fundamental data, economic data, and so on. It is the backbone of nearly all securities analysis.
But that's not the best part about Bloomberg. The best part is the keyboard. I even snapped a photo of my Bloomberg keyboard to show you. It looks like an unraveled Rubik's Cube. It looks like it could launch satellites from the 1980s. It was probably used in the movie War Games. (If you don't know this movie, please don't ask. It just means I'm getting old. Also, was that a second Matthew Broderick movie reference? Moving on ...)
The Bloomberg keyboard is even indestructible. Seriously, you can beat on that keyboard all you want, and it keeps on typing.
Well, that's enough of me gushing over my Bloomberg keyboard. Let's get to the BAT. Enter Brenner Spear from the Bloomberg Institute:
The Bloomberg Aptitude Test – The BAT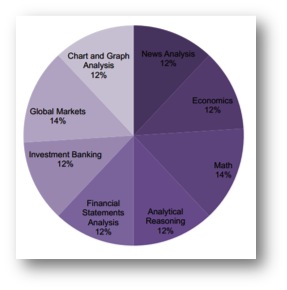 The Bloomberg Institute, one of a handful of Bloomberg Ventures, launched the Bloomberg Aptitude Test (BAT) back in 2011. As it picks up momentum in the financial community and in universities across the globe, students and employers alike are gaining more and more interest. The most valuable part of taking the test is its ability to easily connect top scorers to thousands of employers looking to shirk hiring costs and still bring aboard the best young talent. More on that later.
The BAT is a standardized exam designed to assess a student's aptitude for various business practices needed to pursue a finance or business career. The test is only two hours long and consists of 100 multiple choice questions across eight sections.
The four sections on the right half of the graph are general skills required in almost any business-centric role.
News Analysis – In this section, you are asked to read a series of brief passages on topics that impact the financial world and answer questions that assess your critical and inferential comprehension of the passage.
Economics – Here you are asked to analyze and interpret economic data, information, and situations. The topics include consumer behavior, firm behavior, market equilibrium, international relations, labor markets, banking systems, and global trade policies.
Math – The spectrum of difficulty levels in this section is broad. With such limited time for each question (72 seconds, to be exact) its focus is to assess your ability to solve problems quickly.
Analytical Reasoning – Here you are presented with hypothetical situations and asked to solve a series of problems that require deduction, logic, and creativity.
The four sections on the left focus more on skills required to be proficient in a financial sector role.
Financial Statements Analysis – In this section, you are tested on your understanding of basic business principles, such as how a business calculates profit, measures its liquidity, and uses financial ratios to assess its performance.
Investment Banking – Here you are tested on your ability to apply the fundamental principles of financing and strategic advisory performed by an investment bank.
Global Markets – A general knowledge of current events and trends in the global financial markets helps in this section. You will be asked to analyze and interpret data in the context of activities and transactions that take place in financial markets. The topics include governmental activities, interest rates, currencies and foreign exchange, and asset pricing.
Chart and Graph Analysis – This one is fairly self-explanatory. In this section, you are given charts and graphs and asked to interpret the data.
Scoring
A score between 0 and 50 is awarded for each section, with a possible total score of a number between 200 and 800. The person presented in this image is a genius. The highest overall score anyone has ever scored is 770—only three people have ever done it. The individual sections breakdown shows your score in comparison to the median. Obviously all green is good, and all red would be bad.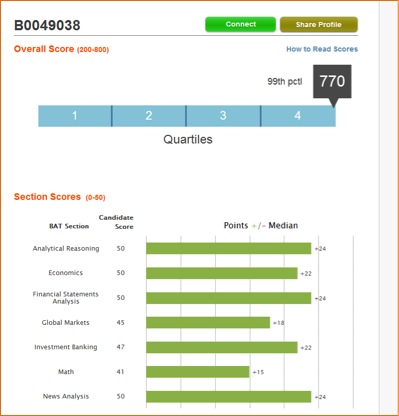 Employer Connections
Once you've received your score, an anonymous profile is created and added to the Talent Search Database. Employers can search for test takers based on a variety of parameters.
Profiles that meet the criteria searched are ranked by the scores in the subject areas selected. With a click or two, an employer can request a test taker's resume. Once the test taker accepts, the employer can peruse the resume and connect with the student from there. Profiles without resumes are rarely connected to by employers. (Read: Upload your resume.)
Access to this database is available not only on the web, but also through the Bloomberg Terminal as a function BTS <GO>.
Availability – The Move to Online
Bloomberg Institute is partnered with 1,000+ universities in over 80 countries worldwide and has had 100,000+ test takers. As this number grows, employer interest grows, which in turn grows test taker interest—you see the cycle.
There is no study guide or program currently available to prepare for the BAT, but the sample questions give you an idea of what the test will be like. Students in any major are encouraged to take the BAT, but a general knowledge of economics, accounting, math, and current events along with quick reading skills will definitely help you out. A detailed and in-depth knowledge of those subjects isn't going to hurt your chances either…
Up until recently, test taking was limited to free sessions on university campuses and Bloomberg offices around the world, but now e-proctoring is available 24 hours a day, 7 days a week. The test is available online to any computer with a webcam (you get a personal proctor to make sure you're not cheating) for free right now, but will cost something in the future. Free sessions are still available on campuses and in Bloomberg offices, though they are obviously scarcer in universities during summer. You can check for any BAT sessions in your area here.
The BAT is essentially a way to announce to the financial world that you're out there, that you're available (or not currently available, if you choose to say so), and that you're interested in starting or continuing your career. I fail to see a downside to taking the BAT—except for a blow to your ego if you score badly, but that probably means you're just not going to cut it in finance anyway.