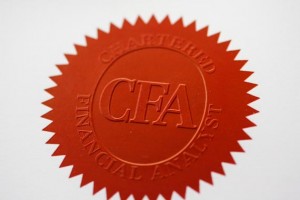 I recently ran across an online post titled "Is the CFA losing its luster?" and had a good laugh. I laughed for multiple reasons.
The first reason was that an image of the seal on my CFA charter (see photo) becoming tarnished came to mind.
The second, and more important, reason was that online forums are full of people who are not CFA charterholders but like to weigh in on the validity of a program they know nothing about. (It would be like me weighing in on which theory of quantum mechanics is the best one.) And, as usually happens when people are jealous of things other people have, they decide to bash the very thing they covet but do not have.
Even worse, some claim things like "I am a CFA" and then proceed to bash the program.
I believe everyone is entitled to their opinions, but if any of you are considering doing the program, do yourself a favor and ignore those people. Their opinions are based on bullshit. They have either not completed the CFA Program or they failed miserably when they tried.
Or they are imposters, who are so much cooler online. The imposters are easy to spot because they often break the first rule of the CFA club:
Never talk about the CFA club.
Wait. Wrong club.
I meant to say: Never use CFA as a noun. These faux-CFAs (see—using the CFA as a noun again) are trolls living in their mommies' basements, watching CNBC and pretending to be top investors. They will never make it in the money management business, nor will you if you take their advice.
It's time to set the record straight on the CFA Program and the myths that surround it.
Myth #1: The CFA Program Will Make You a Great Investor
I'm pro-CFA, but this is a myth from the pro-CFA crowd that needs to die. The CFA Program will not make you a great investor.
Deliberate practice investing over time will make you a great investor. What the CFA Program gives you is very broad, yet detailed knowledge of finance and economics. You will cover everything in the CFA Program and be tested on everything.
And I mean everything.
The first time I took the Level 2 exam (oh yeah, I had to take that awful thing twice), I bombed a question about options on Treasury bonds. When I read the question my first thought was, "Who the f*ck writes options on Treasury bonds?" This was followed by more obscenities from my inner monologue and then a blank page.
Today I still know next to nothing about options on Treasury bonds, but at least I've been exposed to them. You never know what future the markets might hold for you, so the CFA Program offers a good base of knowledge to get you on your way.
Going through boot camp in the military doesn't make you a great soldier, but it prepares you for the journey to become one. Think of the CFA Program as a white-collar boot camp for finance geeks like you and me.
Myth #2: The CFA Program Is Not Worth the Money/Time. I Don't Need It to Be a Great Investor.
Let's get the easy part out of the way first: I have never met a CFA charterholder who did not think the program was worth it.
And yet, the online world is littered with "CFAs" who like to tell people like you that the CFA Program is a waste of time. Just remember that these are the trolls I was talking about earlier. They've never been through the program and they don't know what they're talking about.
Listen, the CFA program is hell. We can all admit it. But successfully completing the program and earning your charter is a worthwhile endeavor. So what if "everyone" has completed the CFA Program. Was your high school diploma a waste of time? Was your university degree a waste of time? If the answers to those questions aren't obvious to you, I suggest you stop reading now and go back to hanging out online with the trolls.
As for the second part of this myth, it's not a myth. It's true. You don't need to go through the CFA Program to become a great investor. As I mentioned before, what the program does is give you a good base of knowledge to get there.
But if you aren't going to take the time to go through the program, what exactly is your plan to becoming a great investor or top hedge fund guru? Will you pronounce to the world that you are a great investor and then sit back and watch the money from pension funds and high-net worths pour in? Will Warren Buffett see you watching CNBC one day and decide to hire you as Berkshire's CIO?
There's a word for this line of thinking: fantasy. If you want fantasy, check out Game of Thrones instead.
Imagine for a minute you want to be a writer and you accidentally run into a top editor at a bar one random night (you both were rooting for the same sports team). You can't believe your luck and you ask this editor's advice and, after a few drinks, ask if she can help you become a writer.
What do you think the editor will ask for next?
"Send me a sample of your writing and I'll take a look at it."
Did you think you'd get the chance to become a writer just by having the fortune to run into a top editor? The same is true in investing. No employer is going to take you at your word that you have the passion to become a top investor. You need to prove it.
Myth #3: Everyone Has a CFA These Days. It's Not Worth the Same So I Don't Need One.
This reminds me of that great quote by Yogi Berra talking about a popular restaurant:
"Nobody goes there anymore. It's too crowded."
The logic (or lack thereof) behind this myth is easily refuted when you ask the trolls what they think about university degrees. Everyone has one, so why bother going to college? Logic, people, logic.
What the CFA Means to an Employer
In a perfect world, employers would have a simple test at their disposal that candidates could take. Such a test would tell the employer everything they needed to know about the candidate and predict their future success as a buy side analyst.
Imagine a world with this test for a moment. There would be no need for resumes, cover letters, interviews, or even networking. You just show up, take a test, construct a financial model or two, and get hired (or rejected) on the spot. The job search process would be easy, efficient, and kind of awesome.
Unfortunately, there is no such test, so employers need to look for clues elsewhere to determine if the candidate is going to be a right fit for the investment team. Employers are looking for signals that you have three things:
The ability to do the job
The desire to do the job
The personality to fit with the investment team
Number 3 is handled during the interview process, but before we get to that point we need signs that 1 and 2 exist.
Here's where the CFA rogram comes in like a Swiss army knife because it accomplishes both. To measure your ability to do the job, we will be looking for some type of base education in investing. This usually involves scanning for a finance education background, but can be accomplished by having taken the CFA. Don't have a finance degree? Take the CFA exams. Have a finance degree? Take the CFA exams and stand out from those with just finance degrees—after all, the CFA program is more in-depth than any undergraduate finance degree. Have an MBA with a finance degree? For the heck of it, why not throw the CFA exams on top and really crush everyone?
The CFA curriculum is diverse and detailed and signals to the employer that you have a good knowledge base. Portfolio managers don't want to waste their time teaching new analysts the time value of money.
The CFA Program is a lot of work and requires a fair amount of desire by you to complete it since it is self-directed. Treat it as one more resume item you can use to prove you are serious about investing—if you are, that is.
How to Decide If the CFA Is Right for You
Now down to brass tacks: Is the CFA right for you? Well, the ideal entry-level analyst almost always has the following characteristics:
Undergraduate degree in Finance, Economics, or Accounting
0-2 years experience in IB or ER
MBA and/or CFA preferred
If you have everything on that list except for the CFA part, then you probably don't need to worry about the CFA Program right now. If, however, you are lacking those characteristics, then how will your resume get past the candidate with all the credentials?
The good news is that you can start giving your resume a better chance of getting past the HR gatekeepers. If this situation applies to you, find a way to get started now as most employers don't take you seriously until you've passed Level 2 (everyone seems to be a Level 1 candidate—whether they are or not).
The CFA Program will help you open some doors. It will.
What you do after that, though, is up to you. I need to get back to shining my tarnished charter.