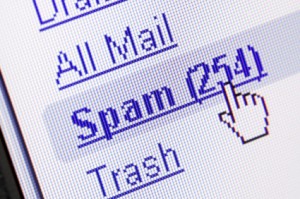 The answer is simple: you are SPAM. Have you ever purchased anything online via an unsolicited email? Have you ever landed a date with someone you didn't know just by sending an email?
Now, I could probably find someone somewhere that can answer "yes" to those two questions, but that person represents an extremely small minority. But would you really want to go on a date with someone who's so desperate they respond to spam looking for dates?
Likewise, how influential a person will you reach if they actually have the time to respond to your cold email? I have a hard time getting an email response from my own boss most days, how do you expect to get a response? As for me, I have deleted every single cold email I have ever received. Not one response. Ever.
I see this type of networking attempt by students a lot. You can see questions about cold emailing from job seekers in various forums, such as here or here. I think this is because cold emailing takes no courage whatsoever. It's a no risk way to make yourself feel like you are doing something. If you really want to network and get a real return on your time and effort, you are going to have to develop a little bit of courage and do something that is uncomfortable. But the payoff is tremendous since you will be part of the small minority that actually networks the right way.
The right way to network with alumni? Go to where the alumni are at: alumni gatherings, university functions, anywhere where they are at. Go there, talk to them FACE-TO-FACE, get their card, then send an email follow-up. Once you talk to one alumni, you can ask that alumni for referrals to other alumni. Now THAT is networking. The goal is to tap into the networks of others instead of trying to make your own network from scratch.
I got my internship during business school by meeting an alumnus at a golf outing. He had just started a new company and was looking for interns. He gave me his card and I followed up and landed an interview right away. I also landed my current job meeting my boss during a school program where he served as an advisor. Alma mater nepotism? Of course it is, but that doesn't mean you can't make it work for you.
Go out there and meet alumni at any and all alumni gatherings and CFA society meetings. The return on your time via the doors that can open will be much, much greater than if you spend your days cold calling.