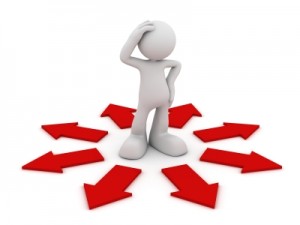 "What's your vote, Peter or Dale?"
This question that has dogged me all week, and now my boss is asking it to me point-blank. I have to answer, but how do I choose between two well-qualified candidates?
After four rounds of interviews, one candidate is going home to spend the next week over-analyzing his every move in a desperate attempt to determine where he went wrong. What tiny misstep was the difference between a career in finance and a Dear John letter?
The other candidate will be at the bar with his friends celebrating the reason for the shit-eating grin on his face. He'll even buy the first round of drinks.
Only one candidate can receive a job offer, so let me ask you: Who would you choose, Peter or Dale?
Today I want to turn the tables and make you the PM for a day to evaluate the two finalists for the buy side equity analyst position at our fictional hedge fund, LBS Capital.
Enough of the background, time to get you up to speed on our candidates.
Enter Peter …
When I first saw Peter for an interview, he was wearing that ubiquitous dark navy blue suit, plain white shirt, and non-flashy tie that every university career center prescribes as "proper interview attire." What's so wrong with a grey suit, I wonder? I don't even own a navy blue suit because I still can't figure out what color shoes I should wear with navy.
Average suit aside, everything else about Peter gives the first impression that he is just your average university student: medium height, medium build, nothing too memorable about him.
He attended a big state university in the Midwest US and majored in finance. His GPA was good, but not great. Like most things about Peter, it's not memorable enough to recall.
Peter tracks his interest in investing back to the mid-to-late 1990s during the TMT boom. Everywhere he went there was talk of stocks and fortunes being made on the latest tech IPO. While many people dreamed of starting the next great tech company and cashing out via an IPO, Peter was more interested in how investors made millions buying IPOs.
Before long, the IPO wave ended and the easy fortunes disappeared into the Matrix, but Peter's interest in investing never waned.
In university, Peter chose the finance track at the business school. While the finance track at the undergraduate level is quite broad, Peter found the opportunity to put his passion for investing to use.
First, there was a student-run investing society that he joined. The society's activities included bringing in real-world portfolio managers and equity analysts to speak at their events, in addition to stockpicking competitions judged by professors.
Second, in his fourth year, Peter was able to participate in a class that taught students how to manage money by given them real money to manage and no safety net. It was hands-on Investing 101. In the class, Peter created stock recommendation reports for professors and several alumni to critique as part of the final project. He even brought one of his stock pitches to the interview, and it wasn't too bad. This kid really wants to be an investor.
On the work experience aspect of Peter's resume, sadly he was unable to secure an internship in investing. Given the recession going on while he was in school, Peter was only able to find a job doing bookkeeping work for a local construction company. Certainly not glamorous, but it did give him some exposure to financial statements which he conveyed during the interview process.
Peter career desire is to analyze companies and make stock recommendations. His long-term goal is to become a portfolio manager.
Enter Dale ….
It's hard to see how Dale wouldn't make a good first impression when he enters a room. He's well-dressed, tall, good-looking, and he walked right up to me and looked me in the eye while giving a firm handshake. This fella is well-bred.
Dale was always an outstanding athlete and scholar in high school. I'm certain the girls were in love with him and the guys were jealous. While I can admire the kid today, I'm quite confident teenage me is just a bit jealous of Dale.
Despite being a gifted athlete, Dale never reached a level high enough to play at the private university in the Northeast where he attended. It's a well-known and excellent school, but it isn't one of the top-tier schools like Harvard so the sporting talent pool is a bit more competitive.
A finance major was not an option for Dale, given the liberal arts school he attended, so he chose to major in economics. Like Peter, Dale's GPA is good but not great, but for some reason I recall Dale's GPA being better than Peter's.
On extracurricular activities, Dale was Vice President of his fraternity. This does not shock me as Dale seems like a natural leader. I was VP at my fraternity, so I can relate to Dale on this part of his resume.
On the work experience part of Dale's resume, he has an internship at his uncle's venture capital firm where he helped analyze potential deals. He said the internship was a tremendous opportunity to see how the gritty world of finance really works, as opposed to the academic theory that dominates his economics major.
When I asked Dale about where else he is interviewing, he responded that he has also interviewed at several investment banks and a few private equity firms.
Dale really wants a job in finance; he's just not that specific about exactly what he wants to do in finance. Dale believes he has the talent to succeed; he just needs to opportunity to prove it.
Enter You ...
The majority of web readers never take part in online discussions. That is true of LBS, M&I, and any other website. That's all right, though. I rarely leave comments either.
But today I'm shining the spotlight on you. I'm asking you to vote for your preferred candidate via the poll on the LBS Facebook page and then leave a comment below about why you choose that candidate.
After everyone has had a chance to weigh-in, I will be writing a follow-up post with analysis that can help you break into the world of finance and investing. After, isn't that why you are here?
Looking forward to hearing from you ….
… well, what are you waiting for? Vote now!